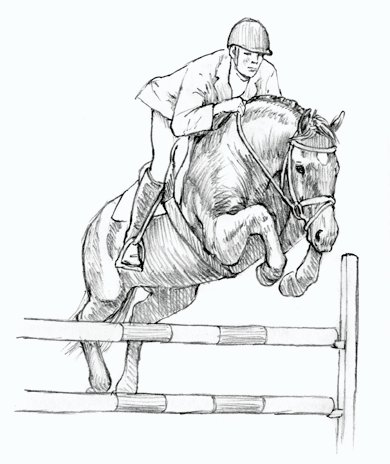 CHAPTER SIX: HOW HIGH?
Respect and I were turned out together one day when Petey came to the paddock with an unfamiliar man. This man was even thinner than Petey, and older, his face hard and lined, like leather on a worn saddle.

"Both these horses can jump," Petey said. "The mare is even scopier than the black horse, but her temperament is sour as a crabapple." I remembered trying to eat a crabapple that had fallen to the ground when I was a colt. It looked like a little apple. My mother bared her teeth in laughter when she saw me spit it out.

The man nodded. His hair was a very pale blonde shade, like a clayback palomino. Suddenly, he bent down, picked up a whole handful of small sharp stones and threw them at us. One hit me right on my backbone, where the skin is thin. We both startled, then galloped away. Respect leaped straight into the air and humped her back, switching her long red tail at the same time.